JOHN Gidding of TLC's Trading Spaces
Born in Istanbul, Turkey to a Greek mother and an American father, Can Danny Gidding — pronounced "John" in Turkish— has been subjected to a world of byzantine influences since birth. Art and music were his earliest loves, and he was drawn to both while attending high school in Leysin, Switzerland. Afterwards, he majored in Architecture at Yale, received his masters in Architecture from Harvard's Graduate School of Design, and embarked upon a career as a designer on television, with shows on HGTV, ABC, FOX, Logo and currently on TLC's "Trading Spaces" where John has moved back into the field of art and art's applications for interior design.

John has maintained a steady stream of sketchbooks since 1995, sketching whatever provokes his interest with the same skill, precision, and hand-written notes, that were used by illustrators before the age of photography and was taught to him in Leysin. He splits time between the USA where he lives, and Turkey and Europe where his family lives.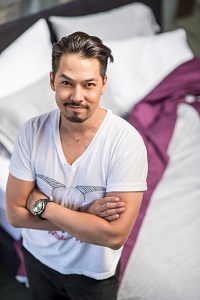 TYLER WISLER of hgtv's design star
From his base in New York, Tyler Wisler has become an influential and sought-after designer boasting an international clientele. His spaces are fashionably aspirational with hints of the unexpected. He's been featured on hit shows including HGTV's "Design Star'', ABC's "Good Morning America", NBC's "George To The Rescue'', and Lifetime's "The Way Home." He currently stars as a judge and mentor on Asia's biggest design competition show, Sony Channel Asia's "The Apartment" where he is known for tough love and sound, practical advice. His approachable personality has made him a popular speaker at major venues and events across the county, imparting knowledge to eager homeowners and design enthusiasts. Both Mashable and Huffington Post touted Tyler as "one to follow" because he is an "eBay Influencer", a content creator for Skype, and, notably, a Pinterest "Pinfluencer" in both the Home Décor and Men's Fashion categories. He helped launch the Behind The Design campaign for furniture super source Living Spaces. He's been seen in Architectural Digest, The New York Times, The Washington Post, Elle Décor and Better Homes and Gardens. Companies like Kohler, 3M, TIKI Brand, BRIZO, Cosentino, AGA/Marvel, Sherwin-Williams and Benjamin Moore have all collaborated for his edgy aesthetic and authentic narrative. Tyler expanded his brand by launching a line of eco-luxury bedding for Butterfly Dreams linens. He supports philanthropic causes by aligning with DIFFA, Housing Works, and the Hetrick-Martin Institute. Whether talking trends, demonstrating a DIY project, or creating a rocking interior, Tyler believes everyone has the right to be surrounded by great design!