BIG CROWDS. BIG SUCCESS.
Thousands of homeowners converged on the Dulles Expo Center for three days of shopping at the Home + Remodeling Show on January 18-20, 2019, making it a must-attend event again this year. With ideas in mind and money to spend, visitors eagerly walked the show to gain inspiration and meet with nearly 275 exhibitors and experts to discuss their projects. Here's a recap of the exciting marketplace these buyers experienced.
Click HERE for the 2019 Post Show Report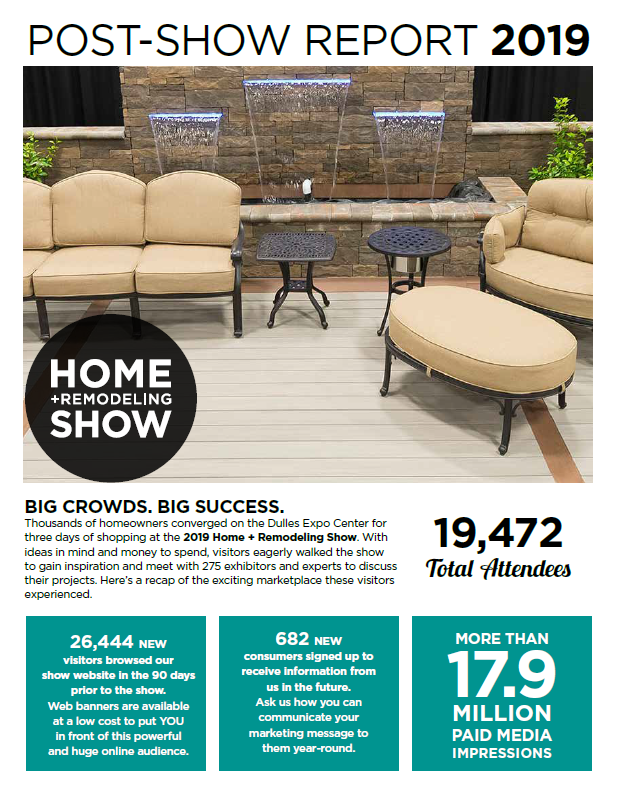 Why Should Your Company Exhibit?
The Home + Remodeling Show attracts qualified homeowners from the Northern Virginia/DC area. During the course of three days you will generate hundreds of leads resulting in sales for the next six to twelve months. Take the guesswork out of where your advertising dollars should be spent...plan now to participate in this show!


Attendance at the 2019 Home + Remodeling Show was 19,472! Will you see this many homeowners in the same 3-day time-frame if you're NOT here in 2020?
Meet qualified homeowners ready to invest money in their homes.
Utilize a marketing medium that puts you face-to-face with your customers - print, radio and television advertising does not offer you this opportunity.
Be part of an ideal sales environment where consumers can see, touch and BUY your product or service.
Experience tremendous exposure that results in follow-up sales throughout the year.
95% of consumers are visiting the show with a project in mind!
EXHIBITOR BENEFITS
Top 10 Reasons to Exhibit in Consumer Shows
Shows are immediate and compelling. You can't change the channel or turn the page.
Consumers are ready to buy.
The audience is pre-qualified. They paid to gain entry.
Shows produce far fewer tire-kickers or unqualified buyers than any other form of advertising. If they are at a show, they want to purchase.
Accomplish a multitude of objectives: make immediate sales, gather quality leads, build brand awareness; sample products, set appointments, and more!
Shows are ideal for test marketing or launching new products. You get to view reactions then and there.
Shows are excellent at helping you stand out from your competition.
Shows are very cost-effective. It is the show that makes a massive investment in marketing.
Shows are the only form of face-to-face marketing.
Consumers can touch, see, hear, taste, feel and smell the products. It is the only form of marketing that engages all senses.
Listen to what other companies have to say about our Home Shows and what exhibiting in our shows could mean for YOUR business!