Mid-Atlantic Waterproofing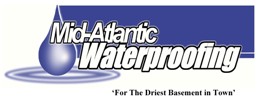 Booth: 211
112 Juliad Court
Suite 109
At Mid-Atlantic Waterproofing, our job is simple:
We turn wet basements into dry basements!
Using our patent-pending systems, Mid-Atlantic Waterproofing provides basement waterproofing services to keep your basement or crawlspace dry, your family safe and your investment protected. Contact us today to schedule a free basement inspection and report on the condition of your foundation.