The 2021 Exhibitor Kit will be posted Closer to Show Date
Exhibitor Regulations
In an effort to continue to improve the exhibit quality of the Home & Remodeling Show, we are asking all exhibitors to do the following:

1. All exhibit booths must have some type of flooring. 100% of the exhibit booth floor must be covered. Duct tape is not allowed in securing the carpet to the floor. Double sided tape must be used.

2. All tables must be professionally skirted. Skirting must be provided for all exposed areas of the table. Skirting must go from the edge of the table to the floor. All skirting must be pressed and neat. Tablecloths (plastic or fabric), pieces of fabric and bed sheets are not permitted.

3. All signs must be professionally prepared. No handwritten signs are allowed.

4. All exhibit booth walls are to be completely finished. No wires, frames, wood, etc…should be exposed for the public or for your neighbors to see.

5. All areas of the exhibit space agreement must be completed. Please pay special attention to the product listing - this will appear in the show guide that is distributed at the entrance to the show.
MOVE- IN:
| | |
| --- | --- |
| Tuesday January 14, 2020 | Noon- 5:00pm |
| Wednesday January 15, 2020 | 8:00am- 5:00pm |
| Thursday January 16, 2020 | 8:00am- 5:00pm |
*Please note that exhibitors will be called with specific move in dates and times - we ask that you come as close to your designated time as possible to make the move-in process smooth for everyone! Please call your sales representative if you have questions or concerns!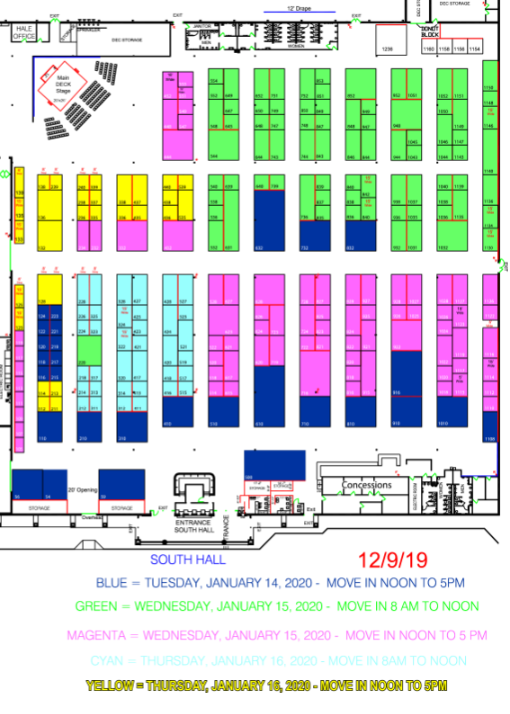 SHOW DATES & HOURS:
| | |
| --- | --- |
| Friday January 17, 2020 | 10:00am- 9:00pm |
| Saturday January 18, 2020 | 10:00am- 9:00pm |
| Sunday January 19, 2020 | 10:00am- 6:00pm |
move-out:
| | |
| --- | --- |
| Sunday January 19, 2020 | 6:00pm- 10:00pm |
| Monday January 20, 2020 | 8:00am- 12:00pm |