Washington Post Chat with John Gidding
ohn Gidding, one of the designers on TLC's
Trading Spaces
, and headliner for this weekend's Home + Remodeling Show at the Dulles Expo Center in suburban Washington DC, participated in the Washington Post live chat Thursday where he and home and design writer, Jura Koncius, took questions about design, paint colors and picky cats. Here are some of the questions and John's spot on answers. Catch him on stage Friday and Saturday!
J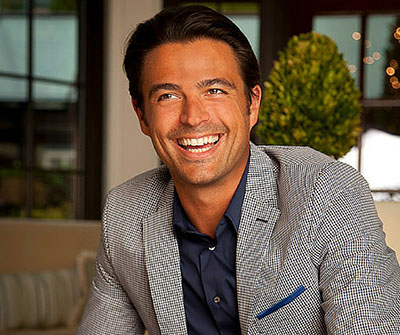 Question: Florida Room - in a basement
There is a small room in my basement that has a single small window looking to the SE. I want to make it into a "Florida Room!" (I'm NOT in Florida). I picked that title rather than sunroom because it does not get much sun. I don't have that much money, but I figure that I can put in some grow lamps, and greenery, and lots of white (which I love), and then gradually add a little furniture. I love the outdoors and want to have it with me even in winter. How to get started on this path?
John's Answer: "I love the idea of a Florida Room in the basement - way to make lemonade. The key is to embrace the difficulties of a low-natural-light room. Use reflective-surface materials to maximize light bouncing around the room. Keep the walls white for most of the room but also pick an accent wall where you'll incorporate a bright tropical wallpaper. (My friend Genevieve has some nice ones ;) Finally for plants, you'll to find the tropical look without a big need for lights: bromeliads, ivies, or large leaved potted plants like the cast iron plant will liven up the room."
Question: Paint Color for Black & Ivory Foyer
Hello! I purchased a Safavieh Courtyard runner in a black and bone check pattern. I plan to paint the walls bone and the oak stair railing black. Do you have any suggestions on paint colors or finishes?
John's Answer: "Well I know some Sherwin colors that'll do well but specifically bone and black are well represented in farrow and ball. I'm forgetting the names but they're pricey and gorgeous."
Question: Inexpensive floor redo
I am putting my father's mid-century modern house on the market this spring, and we need to do some floor replacements. We don't want to spend a lot of money on this (luckily my husband is a contractor so he will be doing the work). To keep our costs down, we're likely going with a click-together type of flooring for the downstairs den, bedroom, and bathroom. I'm mostly concerned about the den, which has a sort of golden oak wood paneling. Any thoughts about the best color flooring to go with that? Thanks much.
John's Answer: "Well luckily the house is mid century - I feel like wood-on-wood is exalted in that style of home. For sure, maintain consistency of wood type and color for the whole house. There might be some clash of you find a floor color that's too close to the golden oak color - I would skew darker or lighter, probably lighter."
Question: Tricky lighting with cathedral ceiling
What do you recommend for lighting a large room (16x23) with a cathedral ceiling (with skylights) when the ceiling isn't wired (except for two stupid and ugly can lights over the fireplace)? The room gets great western exposure and is painted in Ben Moore Wolf Gray -- which we love, and it isn't too dark during the day. It looks terrific at night in the parts of the room where we do have lamplight, but the ceiling goes as high as 20 feet and one corner has the media cabinet so it's hard to put a lamp there (husband refuses to hang tv over fireplace). Two electricians have refused to retro-wire, because there's no attic over the cathedral ceiling. Any creative ideas???
John's Answer: "Swagged pendants never hurt anyone! :) You can gussy the wires up with chains, but the idea is a simple one. You just need to position a cluster of pendants where they're most needed - or position multiple pendants around the large room. The key is to pick the fixtures that make the most sense. I find with swagged pendants, the simpler the better. And most crucially: put them on dimmers."
Question: ISO Timeless mountain design
Living right up next to the mountains in a community that looks, inside and out, like suburban anywhere, USA. Shocked that the sense of place seems out of whack. I want to overhaul the interior, but I'm also concerned about getting to something timeless, not trendy, and not looking like I unloaded a log cabin somehow inside the house.
John's Answer: "I hope you have seen the HGTV Dreamhome this year in Whitefish, MT..? It is literally the answer to this question. Just enough mountain mixed with just enough modern. I believe all the furniture in that house is from Wayfair, so if there's anything you love, you know where to find it. The key is (and Brian Patrick Flynn did this beautifully) to bring in the mountain using Art and Accent Fabrics, and let the furniture be have more neutral clean palette. Don't forget to throw a party when you've completed the overhaul, every cabin needs an Après-Ski moment."
Question: Cats I know you love cats and so do I.
Do you have any tips for dealing with litter boxes or scratching? Two very important topics for cat owners. Thanks!
John's Answer: "I not only have cats but I have PICKY cats who refused to use design-centric litter boxes. They don't love the ones where they have to enter through a hole. My litter solution is more of a litter acceptance into my life: I buy the "lightweight" kind and change it frequently. Finally, for scratching, I stay on clipping their nails!"
Get more home style advice and ideas when you see John at the Home + Remodeling Show this weekend, January 18-20, at the Dulles Expo Center.



JANUARY 18-20, 2019.
DULLES EXPO CENTER
Jan 18, 2019, 20:29 PM