Getting to Know Tyler Wisler
From his base in New York, Tyler Wisler has become an influential and sought-after designer boasting an international clientele. His spaces are fashionably aspirational with hints of the unexpected. He's been featured on hit shows including HGTV's
Design Star
, ABC's
Good Morning America
, NBC's
George To The Rescue
, and Lifetime's
The Way Home
. He currently stars as a judge and mentor on Asia's biggest design competition show, Sony Channel Asia's
The Apartment
, where he is known for tough love and sound, practical advice. Tyler will be on the Home + Remodeling Show stage Friday, Saturday and Sunday. Find him on Instagram and Twitter at
@NYDesignGuy
, but first enjoy our brief interview below!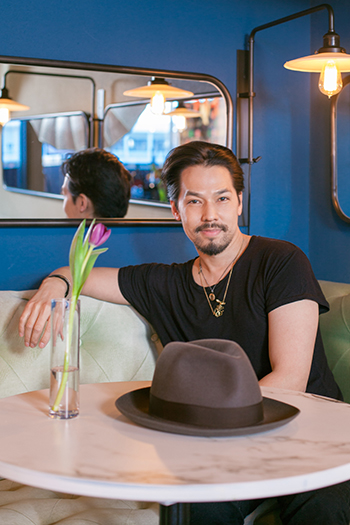 Q: What's one thing we wouldn't guess about you?
Tyler
: "I am probably the most boring person you would ever meet. I would much rather be at home than out, any day of the week."
Q: What's a common mistake homeowners make when they take on a home improvement project themselves?
Tyler
: "It is beyond their scope. I believe that kitchens and bathrooms are NOT DIY projects for the everyday person."
Q: Fill in the blank: The three things I can't live without are ______________.
Tyler
: "Coffee, my phone & my blow dryer… Not necessarily in that order! Hehe!"
Q: What's a must-have at any party you're throwing?
Tyler
: "Booze… Oh wait, is that a proper answer? What project have you been most proud to work on? I am proud of all the projects that are a true collaboration between myself and the client. That is when design is most authentic."
Q: Where do you go online to find inspiration?
Tyler
: "I'm an official Pinfluencer, so take a guess… Ha!"

Q: What are your best small space living hacks?
Tyler
: "Even in a small living space, don't get a small or apartment sized sofa. How will you ever get comfortable on it?"
Q: What's something that folks should watch out for when working with a contractor or interior designer?
Tyler
: "Ask questions, ask a ton of questions, to make sure you and that person are always on the same page. Communication is key to making spaces great!"
Q: What decor items are worth splurging on?
Tyler
: "Bedding! A third of your life is spent in bed, don't forget that!"
Q: Would you rather upgrade your closet, bathroom or kitchen?
Tyler
: "Kitchen! But of course that's the most expensive fix… You've been interviewed many times."
Q: What is the one question you always wish someone would ask?
Tyler
: "Would you like a beer before we start?"
Tyler will be taking over our Main Stage on Friday, January 18 at 5pm, on Saturday, January 19 at 12pm and 4pm, and on Sunday, January 20 at 12pm. Be sure to check out his informative presentations.



JANUARY 18-20, 2019.
DULLES EXPO CENTER
Jan 16, 2019, 15:06 PM