Fun with John Gidding
Born in Istanbul, Turkey to a Greek mother and an American father, John has been subjected to a world of byzantine influences since birth. Art and music were his earliest loves, and he was drawn to both while attending high school in Leysin, Switzerland. Afterwards, he majored in Architecture at Yale, received his Master's in Architecture from Harvard's Graduate School of Design, and embarked upon a career as a designer on television, with shows on HGTV, ABC, FOX and Logo. He's currently one of the new interior designers on the popular reboot of TLC's
Trading Spaces
.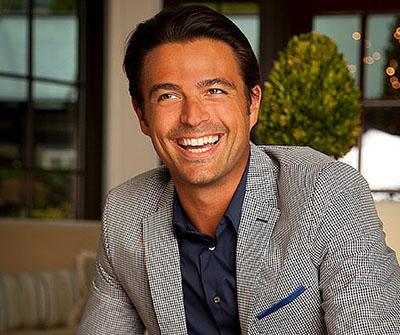 He splits time between the USA where he lives, and Turkey and Europe where his family lives. He will be on the Home + Remodeling Show stage on Friday January 18 and Saturday January 19. He took some time before our show to answer some fun questions.
Q: What is your favorite paint color?
John
: "Porpoise by Sherwin Williams."
Q: What was your most memorable home project for yourself or work?
John
: "The chef's kitchen and wine wall I did for the Anaheim (CA) Hilton. The stacked-plywood-and-steel art piece holds their wines and food staging for special events."
Q: If you could only use one which would you choose: Facebook, Instagram or Snapchat? Why?
John
: "Instagram is my jam - I love the speed of consumption of imagery from all of my friends, family, and tastemakers around the world. Instagram
@JohnGidding
."
Q: What is your ultimate comfort food? What do you eat if you're having a bad day?
John
: "There's a Turkish lentil soup which is made by pushing red lentils through a fine sieve - it's served with hot pita and a lemon wedge. Brings me right home."
Q: What's your least favorite chore?
John
: "Mopping Name one person in your field that you admire and why? Genevieve Gorder (another "Trading Spaces" designer)- she lives and breathes beauty and design, and makes it all seem effortless."
Q: What's one thing we wouldn't guess about you?
John
: "Painfully unpopular until college."
Q: What is your favorite space to makeover and why?
John
: "Kitchens! I love the combination of space planning, fixture selection, functional requirements, and beauty needs."
Catch John Gidding on the Main Stage at the Home + Remodeling Show on Friday, January 18 at 5pm and on Saturday, January 19 at 12pm and 3pm. Don't miss it!



JANUARY 18-20, 2019.
DULLES EXPO CENTER
Jan 15, 2019, 02:23 AM