Redefined Designer Rooms
We are past the hustle and bustle of the holiday season and in the time of the winter when we nest and plan for spring. The Home + Remodeling Show, happening January 18-20 at the Dulles Expo Center, has a new experience that will help you to dream about the changes you will want to make in your home once spring has sprung with the new Refined Design Rooms experience. Explore rooms from local design experts that exhibit options from color, to recycling furniture to designing a custom furniture piece.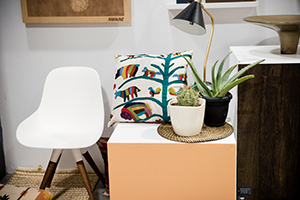 Featured Local Designers include:
THE BLENDED HOUSE
Pam came into her design work from a non-traditional background. She holds a degree in psychology from Bryn Mawr College. Pam has packed (literally) a whole lot of life experience under her belt - with over 20 moves, including a stint in the Middle East. Along the way, she created The McLoone Group, a company specializing in professional organizing services, home staging, and interior design and home furnishings. Through her public speaking, Pam motivates and inspires others to live their best lives through the thoughtful design of their spaces and systems.
POMPANOOSUC MILLS
The company was founded 45 years ago by Dwight Sargent, who began building furniture in a small workshop using old-world traditions. From a handful of early prototypes, the line has grown to hundreds of designs, and there are now nine showrooms in the Northeast. The company's exceptional focus on catering to every customer's particular requests, or a project's unique requirements, sets Pompanoosuc Mills apart amongst furniture makers. Customers may select a Pompy design or work with in-house designers at each showroom to customize or custom-design a piece of furniture according to specific preferences and spatial requirements. Customers then choose from a number of sustainably sourced American hardwoods, such as maple, cherry, birch, oak, ash, and walnut, or an American Exotic specialty wood, such as quilted or tiger maple, Bastogne walnut, or reclaimed redwood. They can also choose to combine woods for a truly unique piece. At each step of the process, your furniture is in the hands of the experienced and knowledgeable team at Pompanoosuc Mills—from the time the initial order is taken, as the piece makes its way through the workshop, and ultimately through when their white-glove delivery team carefully brings the piece right into your home for you to enjoy for generations.
VINTAGE REMEDY
Vintage Remedy is a furniture and home decor business specializing in quality lacquer paint work. Located in Loudoun County, VA and serving the DC region. Vintage Remedy helps clients breathe new life into vintage pieces with paint or restoration services. The aim is to assist clients in curating a home that is uniquely theirs, and to "Cure Boring Design".
The Home + Remodeling Show takes place January 18-20 at the Dulles Expo Center. Join us this weekend for home improvement ideas, decor inspiration, and tons of expert advice.



JANUARY 18-20, 2019.
DULLES EXPO CENTER
Jan 14, 2019, 19:46 PM