The Washington Post Chat: Madcap Cottage
Every week
The Washington Post
home editor, Jura Koncius, conducts a live chat with notable decorators and designers. Our Home + Remodeling Show headliners, Jason Loecke and John Oliver Nixon, the talent behind North Carolina based design firm Madcap Cottage, logged in on January 11 ahead of their appearance at the show this weekend.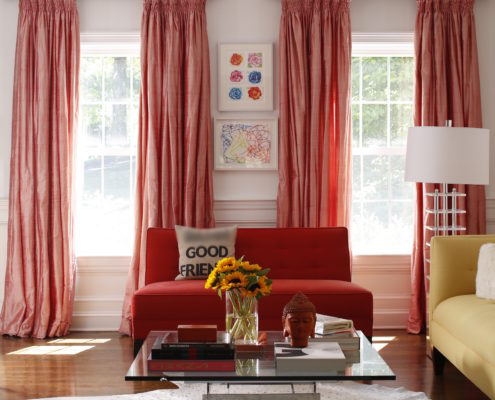 A lively conversation included prints, pattern, color and more.
Visit The Washington Post website to enjoy the entire chat
, or read on to check out some of our favorite moments from last week.
"Good morning all and welcome to John Loecke and Jason Oliver Nixon of Madcap Cottage in High Point, N.C. John and Jason are known for their sophisticated yet whimsical use of color and pattern. The firm's owner shop the world for vintage and antique finds and furnish their clients' homes with unexpected combinations. Their latest book
Prints Charming: Create Absolutely Beautiful Interiors with Prints and Patterns
shows how to successfully layer different fabrics and hues to create memorable interiors. John and Jason will be appearing at the Home + Remodeling Show at Dulles Expo Center that is being held January 19-21. Meanwhile, they are here today to explain how to bring some decorating excitement to your home, something we especially need in this period of freezing cold and gray winter weather.

Q: Accent fabric help, please!

I love my historically inspired living room but want to spice it up a bit. Walls are similar to Farrow and Ball Hague Blue, and drapes and furniture are cream/ivory. I have a creamware collection in cabinets and antique books that lend some visual interest, but I feel the need for more patterned fabric accents. I'm thinking maybe window pelmets, but am stuck on color and pattern type (toile or indienne or something else)? I prefer a classic look rather than injecting something too modern. What do you recommend?
A: Madcap Cottage - The room sounds wonderful! Go with a toile that has multiple shades of blue to add some further interest and spice it up. Do pelmets, but come up with an interesting shape for them that has some theater. Edge the pelmets with a blue fabric and trim them with a cream or beige tape or trim.

Q: Hoping To Add Some Flair To Our New House!

Hi! This is so exciting as we just love your work!! We recently got a great deal on a house and desperately need to give it some life. You look like just the right men to help this man out! I have always pushed boundaries in my life and want to bring some flamboyant touches to my home. This house is full of white paint, beige carpet, etc. so any and every suggestion is much appreciated! I am eager to do this as I am totally motivated by this world that has always tried to tell me no. Thank you!!x
A: Madcap Cottage - Thank you for the very kind words! Be sure to pick up a copy of our book, it's really a great, fun primer to bringing prints and pattern home. "Prints Charming: Create Absolutely Beautiful Interiors with Prints & Patterns."
Q: Pillows

I have trouble mixing and matching pillows on my sofa. Should you use solid pillows with print pillows or can you mix several prints? Should you use the color of your sofa as a starting point?
A: Madcap Cottage - Mix solids and prints. Use the color of your sofa as a starting point: If your sofa is blue, look for pillows in other shades of blue. Or if you want to shake it up, pull a hue that complements blue such as red or green and look for patterns that have a bit of blue in them. Think red or green pillows that have a little blue in them.
Q: Mid-century modern furniture
My father recently died and I will be selling his collection of mid-century modern Danish rosewood furniture. It was all purchased at in the 1970s at SCAN, if anyone remembers that store. (Dining room set, two china cabinets, coffee table, side table) I know this market was hot a few years ago; is it still desirable? Thanks much.
A: Madcap Cottage - Absolutely! Mid-century is being used in new ways, pairing with more traditional pieces, for instance. And with more traditional fabrics, such as those from the Madcap Cottage line. And we remember SCAN!

Q: Wallpaper border for kitchen
My small kitchen has a traditional-style wallpaper border (fruits, grape vines) that was installed about 20 years ago. It's time for it to go, but I'm undecided whether to replace it, or just remove it and repaint the area. Are wallpaper borders out of fashion now? If not, what are some current styles?
A: Madcap Cottage - We love wallpaper borders! They are not necessarily the HOT thing these days and are difficult to find. Why not wallpaper your kitchen? Wallpaper borders may not be in fashion, but wallpaper is back in a big way. We just launched a line of Madcap Cottage wallpaper with York, America's oldest wallpaper company. The fashion used to be using things like fruits and veggies in a kitchen, but those rules don't apply now. Have fun with trellis or lattice...
Q: Seeking apartment-sized chairs with cute prints
Hi there, I can't find any apartment-sized living room chairs with cute prints. Where are they?
A: Madcap Cottage - Most furniture today is easy TOO big. Buy vintage pieces and recover them at your local Calico Corners. They can recover anything and are located from coast to coast.
Q: Vintage or vintage-looking white metal kitchen cabinets
My house is a World War I era bungalow and I plan to renovate the kitchen this year. I would like to replace the plain wooden cabinets installed by the previous owner in 1992 with the types of cabinets popular in the 1930s through 1950s, art deco if possible. I occasionally see them on ebay. Other than seeking them there, any other suggestions? I would consider new if there is any manufacturing producing them now? I live in Texas, if that matters.
A: Madcap Cottage - Look to a local salvage outpost, or find photos of what you want and speak to a local carpenter to recreate them. It might be about the same price...
Q: Wallpaper How much wallpaper is too much?
I think it looks quite dated to have wallpaper in every room. But I do like it in the powder room. What are your favorite rooms to wallpaper?
A: Madcap Cottage - You can never have enough wallpaper! Why use it only in the powder room so that only your guests enjoy it? If you are timid about bringing wallpaper out of a powder room, try it in a hallway, laundry room, dressing area... Wallpaper is really being embraced by millennials, it's anything but dated and tired. definition. If you trim is more contained room by room, consider going for a punchy color--it's a good way to bring color into a room without having to paint a whole wall.
Q: Mix don't match
I know from your book that that is your mantra... but how does one do this without going overboard?
A: Madcap Cottage - There are no rules, do what you feel looks right. But don't just go big and bold in one room, carry the storyline throughout your whole home.
Q: Glad you are loving wallpaper!
So glad to hear there is still interest in wallpaper! I love it myself, and it lasts far longer than paint. That said, I'm feeling it is time to update the wallpaper I had installed nearly 30 years ago in our entrance hall, stairway, and upstairs hall. That one has a fairly subtle tone-on-tone damask kind of effect, but with big leaves, not the typical damask print. Is "subtle" still a good way to go? I've loved this for 30 years, so obviously don't replace often, and I'd like to enjoy the new stuff for at least 10 more years before we move.
A: Madcap Cottage - Why not make a big, bold statement, and your foyer is the perfect place for some theater and wow. Life is short, why be subtle.
Q: Fun ideas for a dressing room
Because my house is 85 years old and therefore has tiny closets, my guest room is also my dressing room. There's a full-size daybed for overnight guests, but I also clothing racks, a rolling shoe rack, etc. I've done a bit with the decor to make it feel luxurious, such as a velvet bedspread and metallic accents, but I'd like some more ideas. I'm also on a tight budget, most of what I already have is secondhand or from Ross.
A: Madcap Cottage - Wallpaper the room, add a fun chandelier and a statement mirror, a fun rug, drape the windows...
Q: Upholstered bed
I really, really want an upholstered bed. Not just the headboard, but rails, too, since I don't like dust ruffles. Can I get away with one long term, even after styles change?
A: Madcap Cottage - Upholstered beds are timeless. Have it upholstered in a solid fabric, and dress up the bed with patterned pillows that are easy to switch out.
Q: Very retro and colorful sofa - how to pick items that will go with it?
I just bought this sofa - I love it but have no idea how to purchase chairs or another sofa that won't clash with it, since it is a colorful tweed. Now I'm thinking I should have just bought a gray or beige sofa. Can you help? Thanks!
A: Madcap Cottage - There are three choices: Do leather chairs in a color that you pull from the tweed. You can find a textured fabric that is a solid that pulls a hue from the tweed, perhaps blue that comes from the tweed. Or you can go completely different with a pattern, maybe a patterned woven that ties back to the tweed. It's a great sofa, good choice!
Q: Best hidden gems locally
Hi! I understand that you have a project that you are working on in Oakton, VA . Since you are working locally - can you give some hints to your favorite places to find great design items - where are you sourcing from locally?
A: Madcap Cottage - We love the
Sweetwood Collection
for vintage finds! They have amazing taste.
Q: Farmhouse interio
r
My husband and I are building a traditional farmhouse style home Any prints and patterns you recommend for walls and furniture fabrics? Thank you!
A: Madcap Cottage - Exciting project! We love a good plaid paired with stripes as grounding tools for walls that won't feel dated. The more graphic the plaid or wide the stripe the more modern the look. (It's a nice way to give a traditional style home a contemporary spin.) Layer smaller prints and florals onto furniture. Of course, if you really want to go all out traditional do a statement floral on the walls in your foyer and carry that color story throughout the house.
Q: Madcap Cottage Fabrics
I was lucky enough to win two pillows made from Madcap Cottage fabrics. I chose two fun patterns and then used another print in the same colour for the trim. They are fabulous! Everyone who sees them just raves about them. John and Jason are so talented!
A: Madcap Cottage - Love to hear this!!! Thank you for the very kind words... :)
Q: Colors
What are some of your favorite unexpected color combinations for a living room?
A: Madcap Cottage - Fuchsia and red. Yellow and green. Blue and pink.
Madcap Cottage - Thank you all for the GREAT questions. What fun! Live life in color, and be sure to follow Madcap Cottage on Instagram and Facebook. Thank you, dear Jura! Jason Oliver Nixon and John Loecke"
Get more helpful tips and advice when you see John and Jason on the Main Stage at the Home + Remodeling Show this weekend. The design gurus will be talking patterns, textures, and more this Friday and Saturday.
Get tickets now
and start planning your visit. We can't wait to see you there!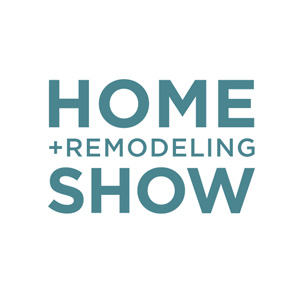 DULLES EXPO CENTER
JANARUY 19-21, 2018.
Jan 19, 2018, 13:24 PM